English



Opening times for go-karting

:
from 9 a.m. to 12 p.m. and from 1:30 p.m. to 6 p.m



Mittagspause (12.00 13.30) ist reserviert für die Mini-Karts, minimes und Kadetten
Recommended equipment:
Approved kart, approved driver equipment
Association license or accident insurance compulsory
Available at the circuit

Daily rates:
Licensed driver(1) : € 38

Unlicensed driver(2) : € 55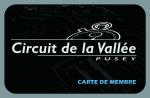 (1) The license or proof of accident insurance (especially for Swiss) must be presented when you come to the circuit for the first time
(2) Damage including accident insurance
(3) The driver's membership card is compulsory. It will be taken on the first visit to the circuit. It must be presented each time. Possibility to present with mobile phone.